Penn Entertainment Slated to Purchase Barstool Sports' Remaining Assets in February
1.1K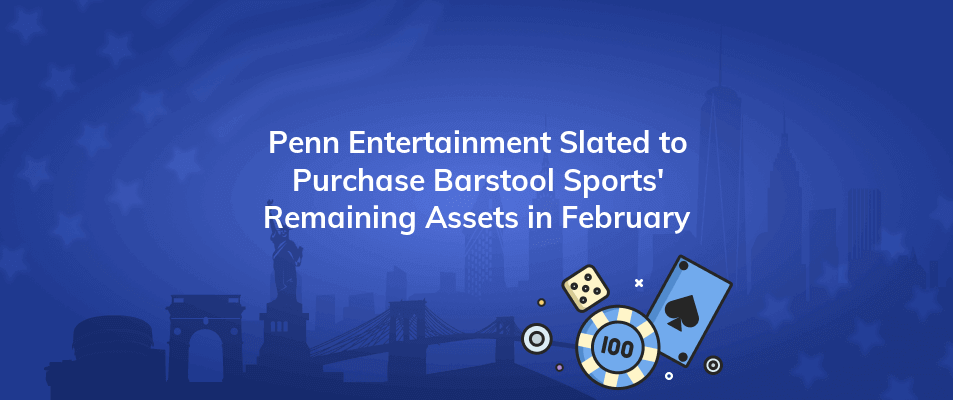 After completing the purchase of Barstool Sports, Penn Entertainment is set to make the sportsbook into its subsidiary. The gambling operator submitted their call rights in August, and the procedure is set to finish in February.
Penn Entertainment's Acquisition of Barstool Sports
For a total of $163 million, Penn initially acquired 36% of Barstool Sports in February 2020. After then, the business spent an extra $62 million to raise its share to over 50%.
Penn will have invested a total of $550 million in the rather contentious sports brand by the time the agreement is finalized in February 2023.
Penn took additional actions in November to secure a prosperous future for the acquisition. The operator disclosed that it started a new $750 million share repurchase program two months ago.
This raises the value of Penn's shares, particularly during the first quarter of 2023. Additionally, it ought to thwart any prospective takeover attempts by rivals attempting to purchase Penn shares at a discount.
Penn decided to give the Barstool Sportsbook its full support by finishing the purchase process and investing an additional $387 million in finance. This past summer, the Pennsylvania-based company stated that Penn Entertainment, Inc. has the right to purchase any shares of Barstool Sports, Inc. common stock that are not already held by Penn. By using these call options, Penn has acquired full control of Barstool.
After the remaining Barstool shares are bought, which is anticipated to happen in February 2023, Barstool will become a fully owned subsidiary of Penn.
Penn's first strategy included spending money on Barstool to lower marketing expenses for the PA online sportsbook. Penn wanted to benefit from this "discounted" advertising because Barstool already had a sizable social media following across several channels.
About Barstool Sports
Barstool Sports is a digital sports, entertainment, and media company that offers its own sportsbook and casino product. It produces content that is widely distributed to a highly engaged audience via the web, podcasts, events, apps, radio, video, pay-per-view, subscription, and TV. David Portnoy founded the business, which has its headquarters in New York.