Mount Airy Casino Appoints New COO and General Manager, Ben Koff
1K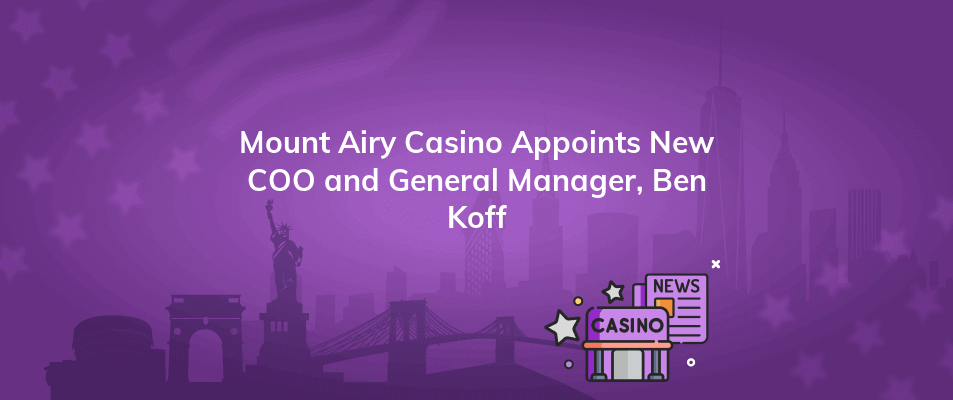 The Mount Airy Casino is being run by new management. Ben Koff has been named the new Chief Operating Officer and General Manager of Mount Airy. The action needs the Pennsylvania Gaming Control Board's (PGCB) authorization.
Koff has 16 years of experience in the gaming business, working in a variety of areas including marketing, finance, and operations. He has had positions at Golden Nugget, Caesars Entertainment, SBE Entertainment Group, Carnival Corporation, and most recently, Mississippi's Scarlet Pearl Casino Resort.
The operations of the casino and resort, including gaming, guest services, human resources, financial performance, and sales and marketing, will be under Koff's supervision.
Ben is an essential asset to lead the executive team thanks to his breadth of knowledge in the gaming and hotel sectors and his enthusiasm for providing exceptional service, according to a press statement from Lisa DeNaples, managing trustee and owner of Mount Airy. The business is excited to have Ben join the Mount Airy Team and is looking forward to all that he will achieve in his roles as general manager and chief operating officer.
Koff will be working in Pennsylvania for the first time in his career.
Smoking at casinos has long been a divisive issue in Pennsylvania. Smoking was legalized in Mount Airy in May 2022, and it was reported in August 2022.
Mount Airy Casino faced a lot of criticism for allowing smoking, and this is still true in January 2023. Back in August, they opted not to comment on the situation.