PlayStar Casino Announced a Deal with Caesars in Pennsylvania Following New Jersey
1.3K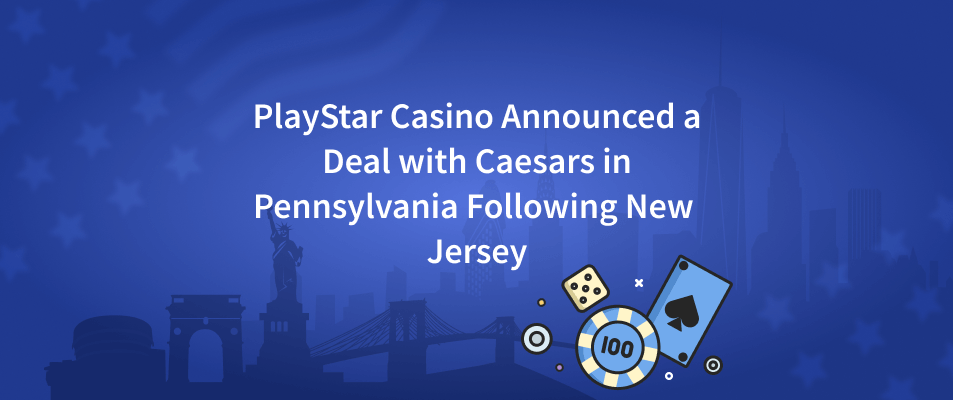 The PlayStar Casino brand is set to debut in New Jersey later this year, and they are already expanding their presence by securing market access in Pennsylvania. The state of Pennsylvania will increase the total addressable population for gaming firms like PlayStar casino as it has a larger amount of people with higher disposable incomes making them likely customers.
PlayStar Casino is confident in their ability to be the next big thing down south. The company has been focusing a lot of efforts on New Jersey and they want to take advantage of this opportunity by expanding into Pennsylvania now that it's legal.
PlayStar will focus primarily on local campaigns with plans for submissions without wasting any time since the ink just dried from its deal not too long ago, but expects business opportunities all over these two states as well due to spill-over effect happening soon enough. The operator further stated that PlayStar Casino is powered by the IG platform and has been established to provide an online casino experience like no other players in states across the US.
Chief Business Development Officer and Co-Founder Adam Noble said that they'd secured market access in Pennsylvania through a multi-year deal with Caesar doubling their addressable market in the process.
"Earlier this year, PlayStar Casino announced its entry into New Jersey. We will continue to pursue such partnerships as we expand our brand.", said Adam Noble, Co-Founder and Chief Business Development Officer, PlayStar Casino.
He added that it was their second market access deal they have secured after announcing, earlier in the year, their entry in New Jersey. He added further that they were open for partnerships as they expand the PlayStar brand. Paving the way through the regulatory process with the Pennsylvania Gaming Control Board, without a doubt, was their next move.