FanDuel Is the Leader in Revenue; DraftKings Sees a Surge in PA Handle
1.5K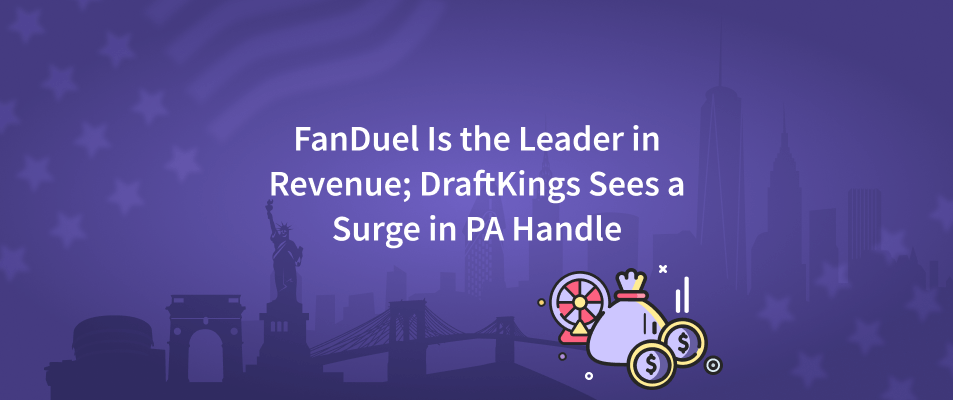 FanDuel and DraftKings both saw significant success with their online sports betting businesses in Pennsylvania in September.
The Pennsylvania Gaming Control Board's publication of its September revenue numbers indicated a substantial tightening of the betting handle difference between DraftKings and its longstanding competitor. FanDuel received $211 million in wagers, while DraftKings received $205.6 million, a difference of $5.4 million. In comparison to August, DraftKings' betting volume increased by 126.7%.
At the same time, FanDuel continues to outperform all other sportsbooks in terms of revenue, as well as its own clients. After accounting for its promotional credits, it generated $22.2 million in taxable revenue out of gross revenue of $32.9 million. These revenue amounts were almost two times what DraftKings had said.
The board stated that the total income from commercial gaming increased to $448.5 million in September from $425.4 million in August and $415.7 million in September 2021. Gaming brought in $182.1 million in taxes for state and municipal governments.
Online Establishments Are Surging in Popularity
Despite September having one fewer day than August, the $112.7 million in iCasino revenue represented a 5.1% increase over August. It was split between $32.2 million from table games, $2.7 million from iPoker, and $79.9 million from online slots. Additionally, compared to September 2021, the monthly income increased by 15.2%.
The sixteen land-based casinos, which is one more than was open in September 2021, didn't experience the same kind of success. They generated $280.1 million in gaming revenue in September, up slightly from $279.7 million in August but down from the $283 million generated in the same month in 2021, when Hollywood Casino Morgantown was not involved.
Pennsylvania Sports Betting Market is Booming
Sports betting activity increased significantly from the summer into the crucial months of the football season, with a statewide handle of $645.2 million producing a gross income of $75.3 million and a taxable figure of $50.2 million. The revenue totals were among the greatest ever.
While retail slot and table game income of $280.1 million showed relatively stable performance, online casino revenue of $112.7 million was also extremely high.
The amount wagered on sports totaled $645.2 million, which is a 77.7% increase over August.
Football season typically provides a significant bump, but it was still notable when compared to September 2021, when the $578.7 million in handling was an increase of 66% over August 2021. The amount wagered might rise in the following months if last year is any indication, as the handle topped $700 million each month from October 2021 to January 2022.
The significant rise in wagering is caused by the great incentives offered by the top online sportsbooks fighting for clients during football season. The total recorded in the state for such welcoming gifts, bonuses, and boosts last month was $25.1 million, which is a record high.
The operators apparently had no issue making up for those offerings with their great revenue performance. The holding rate (the portion of bets that sportsbooks keep from clients) for the $75.3 million revenue from $645.3 million wagered was 11.7%, setting a record for the second consecutive month after 11.6% in August.
FanDuel's hold rate among online gamblers was considerably higher, at 15.6%, which accounts for its enormous income when compared to rivals. In reporting $16.8 million in gross revenue and $11.1 million taxable from online bets, DraftKings' hold rate was 8.2%.
BetMGM had $50.9 million in the handle, $6.2 million in gross revenue, and $1.9 million in taxable income in Pennsylvania, where it often finishes third.
Due to giving out fewer promotional credits, Barstool Sports frequently falls behind BetMGM in the handle but surpasses it in income, as was the case once again in September. It reported a handle of $39.5 million, a gross profit of $3.8 million, and a taxable income of $2.8 million.
Together, the four top online sportsbooks account for nearly 85% of all monthly betting in the state.